Here's How to Experience Pike Place Market Like a Local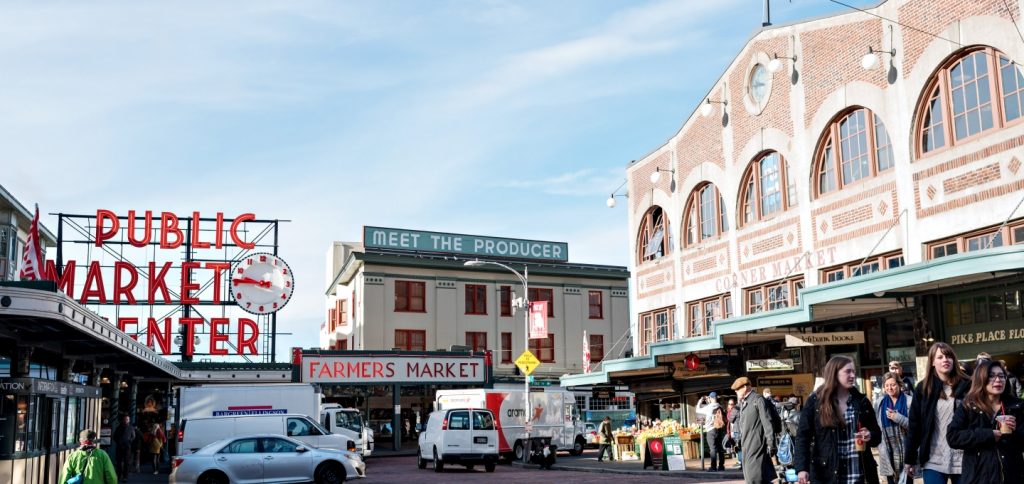 Pike Place Market is amazing. Full stop.
There's a reason why a trip to this iconic open-air market is so sought after by people visiting Seattle.
Going to the market is like jumping off a rock into a rushing river of culture, color, and vibrancy below.
And that's an apt metaphor: after all, there are fish flying in both places.
There's so much going on, so much to see, and so much to do at once that it can even be a little bit intimidating.
It's easy to convince yourself that you're somehow missing out, or that you're not experiencing the market as you should be.
Enter, us.
We know every nook and cranny of the Pike Place Market. All of its twists and turns, and all the shops lining those turns in all of their quaint glory.
So here's your guide to one of the world's most oddly wonderful commercial centers, and how to experience it like a local.
Follow along, try to keep up, and don't get pushy through the crowds. Elbows down.
Beat the rush

Speaking of crowds, or lack thereof, if you want to experience the market without wending your way through all the tourists, swing by early in the morning. Mid-morning typically starts to see more foot traffic, and by lunch it's a fully bustling bazaar.
Visit a unique coffee shop
Le Panier. Seattle Coffee Works. Storyville. Caffe Ladro. Fonte. Cherry Street Coffee. DeLaurenti's. Ancient Grounds. Bacco. The Crumpet Shop. Bottega Italiana. Those are just a few of the many coffee joints in and around Pike Place Market where you can grab a cup of the good stuff. Notice how none of those were named "Starbucks?" Exactly.
Get lunch at the delightfully strict Pike Place Market Oriental Mart
Best Filipino food in town, no questions asked. No, seriously, don't ask any questions. According to the big board of rules behind the counter, "information costs $1, but it's free across the street." Also, don't ask to use the microwave, make eye contact when you order, there's no Wi-Fi password because there's no Wi-Fi (talk to each other), your portion depends on your attitude, and if you don't know how to eat the salmon sinibang, don't order it. Best service ever.
Use the crosswalk

There's a crosswalk right up the street from the "Public Market Center" sign that makes for a primo photo-op. For serious #moodygrams, take one at night in the rain. The red sign light reflects off the wet pavement for that extra film noir feel.
Go deep
Past the crowds of tourists and photographers out front, there's a whole 'nother market down on the lower levels that's every bit as awesome as the one up top. So, don't be a tourist by getting your "Public Market Center" sign photo then leaving. Do a Market deep dive.
Gum up the works at the Gum Wall

In the early '90s, an improv comedy group began sticking their gum to the wall to deter theater goers from putting their gum under the seats, and the idea "stuck." Sorry.
Look for a Pink Door

Nestled away in Post Alley, you'll find a pink door. The Pink Door, to be specific. Delicious Italian food, and so much quaint and rustic charm you'll swear your Pinterest boards came to life. Did we mention the trapeze, cabaret, and burlesque? Now we have.
Meet Rachel

Everyone who's anyone knows Rachel. You can find her right out front under the "Public Market Center" sign; she doesn't tend to move around too much. Also, she isn't very chatty. Maybe she's just shy. Or maybe it's because she's an inanimate bronze pig statue. Still though, she's very charitable, collecting change from passersby which goes toward the Pike Place Market Foundation.
Grab a meat pastry

Two words: Piroshky Piroshky. One word twice, you get the idea. It's the Market's premier spot to grab one of those deliciously versatile Russian puff pastries. Choose a meat, a sweet, or a veggie. Приятного аппетита!
Find the Pike Place Urban Garden

Southwest corner of the market. Look for the "Maximilien Restaurant Outdoor Seating Spectacular View" sign. Follow the hallway behind it, turn left, and there you are. Your own little slice of urban tranquility.
Get frugal

Set a spending limit for yourself, whether it be $10, $15, or $20. Then, see how much food you can sample while not going over that limit. Extra brownie points if you start hungry then finish full. Apologies for mentioning brownies if you're just starting.
Buy your produce by what's in season
Staying with us in winter? Great time for root vegetables and mushrooms. Spring? Excellent for leafy greens like spinach or rhubarb. Summer? Berry bonanza. Just about everything except gourds. Fall? Just about everything except berries, with the one exception being cranberries.
Indulge your sweet tooth at Shug's Soda Fountain

Based on the amount of delicious dessert treats at Shug's, you may need plural sweet "teeth." Enjoy ice cream cocktails, coffee, and affogato in a space that's both modern in its design, and nostalgic in its pastel, malt shop feel.
Ride a ferry

Put an exclamation point on the end of your day with a ride on the iconic Washington State Ferries. Enjoy incredible views of Puget Sound, the setting sun, and the Seattle skyline in the background. Heads up: there's no Wi-Fi on the ferries, so you'll have to go full 20th century and talk to people. The Oriental Mart would be proud.
Take in the sights at the new MarketFront

Okay, this might get a little confusing. The most iconic image of the Pike Place Market is the open-air market underneath the "Public Market Center" sign. That's typically considered the front of the market. Based on that, the new MarketFront is actually in the back. No matter the direction though, the new Market"Front" still offers stunning views of Elliott Bay and a slew of new stalls and shop space. Arguably just as good of an Instagram opportunity as "The Sign."